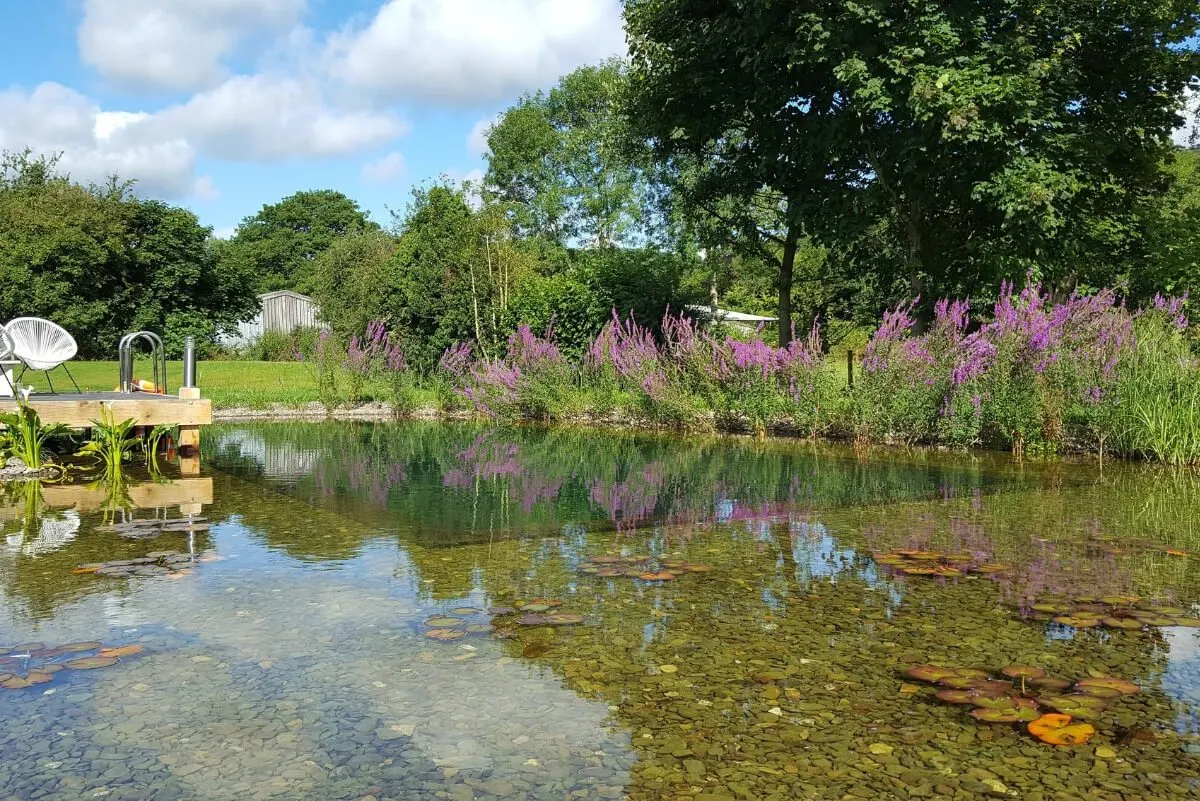 Enhancing a designated Area of Outstanding Natural Beauty
Phil and Debra, the owners of the Baron at Bucknell, a country inn located in an Area of Outstanding Natural Beauty in Shropshire. Commissioned us to design and build a natural swimming pool, that would allow their guests to swim in a chemical-free pool, whilst integrating with the rustic landscape.
We designed and built a 10m x 5m natural swimming pool, which is 2 metres deep. The pool looks like a natural oasis, where guests swim in pristine crystal-clear water. The pool is filtered by plants, micro-organisms, and a market-leading Inspired by Water filtration system. Separated from the swimming area is a 50m2 regeneration area, where impurities are absorbed by plants as nutrients and harmful bacteria are destroyed, by natural water organisms.
Surrounded by the rolling Shropshire Hills – the site of well-known landmarks including Long Mynd, Wenlock Edge, The Wrekin and the Clee – the Baron at Bucknell is a traditional free house country Inn considered one of the finest, near Ludlow in England. To book a stay or find out more look on tripadvisor.
The Baron at Bucknell has been awarded a Trip Advisor Certificate of Excellence. To see some of the glowing reviews and guests photos on Trip Advisor click here.
Portfolio – At Inspired Natural Pools, we love to share our success stories, including those where our customers, are as happy as we are. You can see each of the stunning final projects and more pictures of the Baron at Bucknell's pool here.
Concept – Have you ever wondered just how a Natural Swimming Pool works? Do you know the reasons behind their health benefits? Then take a look at our Concept page that holds all the answers. Find out more here.