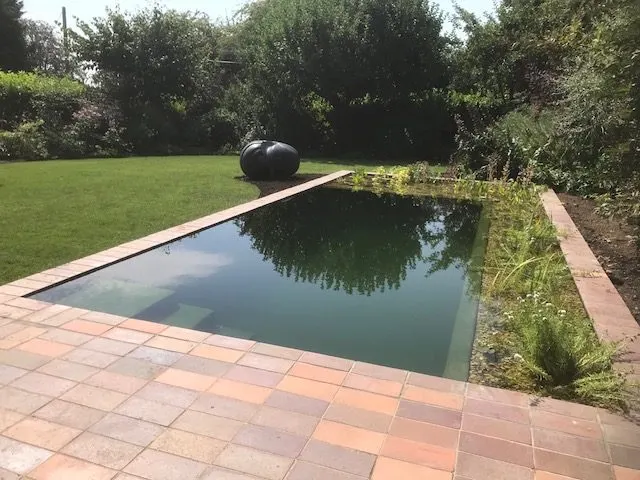 Landscapers Transition to Natural Swimming Pools
Concept
Time Machine Gardens were commissioned by their client to construct a chemical-free swimming pool. The brief was to create a formal natural swimming pond, which was larger than a plunge pool, however, not as substantial as a traditional chlorinated swimming pool. The overriding aim was to focus on superior water quality, the appearance and aesthetics of the pool, whilst ensuring that the project was completed on a reasonable budget.
We were approached by Time Machine Gardens in part because we have an existing long-standing relationship with them designing and supplying for their general aquatic projects. Time Machine Gardens had never built a swim pond before, however, they had no hesitation in utilising our expertise and filtration system to take on this natural swimming pool in Buckinghamshire.
Working Relationship
For this project, we worked in tandem with Time Machine Gardens. As they have years of experience with constructing ponds and water features they undertook the groundwork elements and the overall installation.
Inspired by Water designed a simple yet effective filtration and circulation system. Utilising a traditional plant-and-gravel method alongside an exceptional mechanical filtration unit and ultra-violet clarifiers. Additionally, we provided full design drawings to aid the team on installation. Furthermore, we supplied and installed a high-quality fibreglass finish to the pool, complete with textured steps for safety.
Generally speaking, natural swimming pool companies, will only take on complete builds and projects. They will not offer their expertise and services to landscapers and builders looking to skill build and take on natural swimming pool projects. We at inspired by water are more than happy to tailor our services to our clients, enabling them to cherry-pick what they require. Click here for further reading on how we work.